ACLU of Virginia members, community advocates and allies came together at the ACLU of Virginia's 50th Anniversary Kick-Off and Annual Meeting to highlight "Women in the Criminal Justice System".
The event was an interactive experience, featuring shirts and totes printed by Studio Two Three, moving haiku from Richmond-based poet Michael Donovan, a musical performance from the wonderfully talented Susan Greenbaum and an engaging panel of three women who were previously incarcerated and now advocate for others. These were Kemba Smith, author of "Poster Child: The Kemba Smith Story," Heidi Christiansen, resident and advocate of Friends of Guest House in Alexandria, and Angela Antoine, CEO/Founder of the House of Dreams Outreach & Reentry LLC in Hampton.
ACLU-VA Executive Director Claire Gastanaga presented the State of the Organization, which highlighted how the ACLU of Virginia has grown in membership and staffing in the past two years and laid out the issues that the organization has on its docket for the future.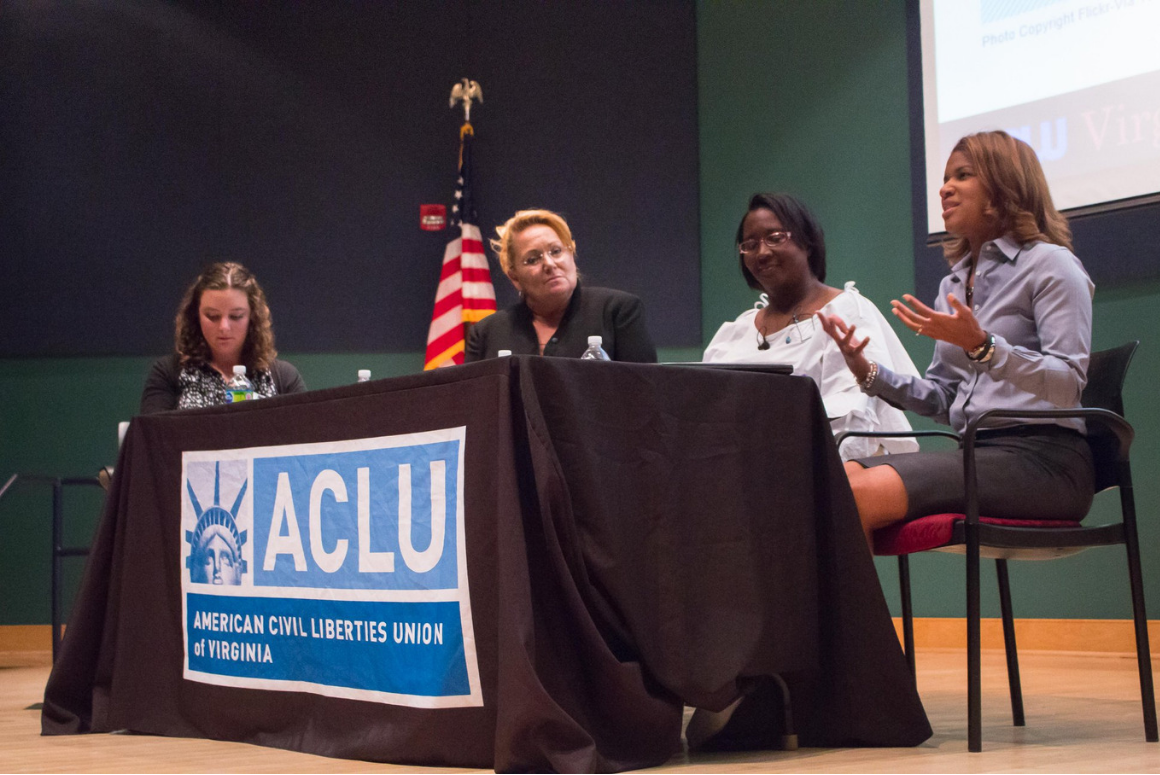 As the title suggests, the content of the meeting was focused on women and the unique experiences that they have in America's criminal justice system. In recent times, our country has at last begun to address the sickness that is mass incarceration. When we look at which countries imprison more people on a global scale, the United States of America wins and it's not even close. Many organizations, politicians and advocates have called for us as a nation to study how the intersections of race and poverty have played a role in disproportionately impacting certain communities, namely people of color. This has resulted in a spotlight being shown on black men and their experiences with over-policing and incarceration. While this is a crucial element in our understanding of the injustices of our systems, this has also lead to our society largely overlooking a hugely impacted demographic: women. 
Kemba Smith addressed this concern. "We talk about the men often," Smith said. "What about the women? We are important voices in this movement."
The unique circumstances that women face going into prison, their experiences while incarcerated, and challenges they face upon re-entering into society are many times left unaddressed. Heidi Christiansen attested to the challenge of maintaining relationships with her family, namely her child, while incarcerated. When it came time for her release, she questioned her ability to mother and contribute to her community. Low self-esteem is a factor in the lives of women across the globe. Couple this self-doubt with the isolation of incarceration and it can be crippling. Heidi emphasized how important re-entry programs and support systems are, especially to women. In the best of circumstances, women are still forced to navigate patriarchal systems that are cemented in our culture. When you add the extra weight of a felony conviction, as well as the stigma and hundreds of collateral consequences, it creates obstacles that are nearly impossible to overcome and that we as a society hardly address. It's time to begin to address these issues, and the ACLU of Virginia Annual Meeting did just that. 
The meeting was an opportunity to educate, network, listen and even cry. The beautiful melodies that were sung, the powerful poems that were read and the moving stories that were told were sometimes hard to listen to. We live in trying times, a time when it can be hard to bear your own weight, much less take on the weight of another. This is why the ACLU of Virginia is so grateful to all of the participants, members and organizers that came together on a rainy Saturday afternoon to address the plague of mass incarceration.
As Susan so beautifully sang, "None of us are free if one of us is chained," our community continues to fight for the rights of those impacted by these unfair systems.