By Rebecca Glenberg, ACLU of Virginia Legal Director
Almost one year ago, on June 26, 2013, the U.S. Supreme Court issued its
ruling
in the ACLU case
United States v. Windsor
, which struck down Section 3 of the Defense of Marriage Act (DOMA) and required the federal government to recognize the lawful marriages of same-sex couples.   The Court recognized DOMA for what it was—"a bare congressional desire to harm a politically unpopular group."
The
Windsor
case dealt only with
federal
recognition of marriages; it did not address whether
states
had to provide marriage equality. But Justice Kennedy's strong language signaled that the Court understands exactly what is at stake in the fight for marriage equality – the equal dignity of every human being.   The Court explained that DOMA was demeaning to same sex couples: "The avowed purpose and practical effect of the law here in question are to impose a disadvantage, a separate status, and so a stigma upon all who enter into same-sex marriages." The statute "tells those couples, and all the world, that their otherwise valid marriages are unworthy of federal recognition" and "humiliates tens of thousands of children now being raised by same-sex couples."
In the face of this poignant description of how refusing the right to marry harms real families, it is not easy for opponents of marriage equality to continue to defend their position.   The
Windsor
decision spurred court challenges across the country to laws that deny marriage to same-sex couples. At last count, courts in seventeen states – including Virginia – have struck down such laws in the last year.
As we celebrate the remarkable progress we have made in just one year, it is fitting to recall the decades-long struggle of Edie Windsor and her wife, Thea Spyer, for legal recognition of their relationship. Edie and Thea were together for forty years before they were finally able to marry in Canada in 2007.   Although their home state of New York did not then allow gay couples to marry, it did recognize marriages, like theirs, from other states and countries.   But because of DOMA, the federal government did not. When Thea died, Edie was faced with a huge estate tax. Property that is inherited from one's spouse is exempt from the tax, but the federal government did not consider Thea to be Edie's spouse. The Supreme Court has now recognized what was obvious to Edie and Thea from the start – that their marriage is equal to any other. (More on Edie Windsor and thecourt case is
here
.)
Edie and Thea's story is emblematic of the millions of LGBT Americans who have sought equality for their families.   Following in their footsteps are the thousands of plaintiffs currently challenging laws that deny legal marriage to same-sex couples. The ACLU of Virginia is privileged to represent two amazing couples in our marriage equality case.   Joanne Harris and Jessi Duff live in Staunton with their adorable son, Jabari, and would like to marry in Virginia. Christy Berghoff and Victoria Kidd live in Winchester with their lovely daughter, Lydia. They got married in Washington D.C., but Virginia still does not recognize their marriage. (More about Joanne and Jessi, Christy and Victoria is
here
.)   These couples have shown extraordinary courage and commitment by stepping forward to lead the fight against Virginia's discriminatory marriage laws.   Because our case is a class action, they represent every same-sex couple in Virginia.
We are living in exciting times. With each new court decision, the momentum builds.   Thank you, Edie and Thea. Thank you, Victoria, Christy, Jessi, and Joanne.
Want to stay informed about LGBT rights?  Continue to follow our
blog
, and check out our
Facebook
and
Twitter
for breaking news!  And,
sign up
to be a grassroots advocate.
Date
Saturday, June 21, 2014 - 3:53pm
Featured image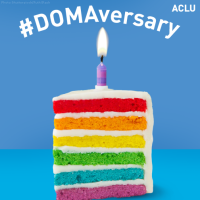 Show featured video/image
Hide banner image
Hide sidebar
Tweet Text
Related issues
Show related content
Author:
Menu parent dynamic listing