The 2013 General Assembly session is well underway and important things are happening at the Capitol even if Virginia is not the butt of jokes nightly on the Colbert Report and the Daily Show.  Cross over was on February 5, and while some bills -- good and bad-- were killed, others survived.  We need all our supporters' help to kill the remaining bad bills that are a threat to civil liberties and to pass the good ones that advance our freedoms.
Protecting Privacy Rights: Good news for Stopping Drones in Virginia
With the ACLU of Virginia leading the movement, the House of Delegates and the Senate have passed a moratorium on the use of drones by law enforcement and regulatory agencies.  The legislation, HB 2012 and SB 1331, prohibits the use of drones for two years so that legislators and various stakeholders, including the public, can continue to debate adequate regulations and protection of Virginians' privacy rights.  The moratorium legislation has emergency exceptions for use of a drone during Amber Alerts or other similar emergencies and prohibits equipping drones with weapons.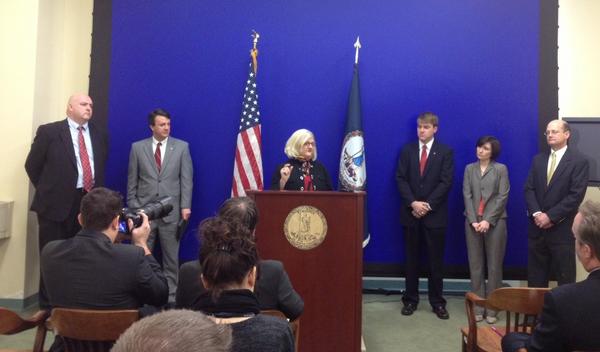 ACLU of Virginia Executive Director Claire Gastanaga at Press Conference on Drone Legislation, Jan. 22, 2013
We are working with a various coalition of groups to pass the legislation--the Virginia Tea Party Patriots Federation, Virginia Farm Bureau Federation, Virginia Poultry Federation, Virginia Agribusiness Council, and the Virginia Campaign for Liberty.  On January 22, we held a press conference with legislators and coalition partners that was well attended by various media outlets and newspapers.
As originally introduced, HB 1616 and SB 1331 would have required legislative approval before a state or local law enforcement agency could purchase a drone.  Delegate Gilbert's bill, HB 1616, was incorporated into HB 2012 after a compromise failed to be reached between stakeholders.  The original legislation also required law enforcement agencies and regulatory agencies to obtain a warrant based upon probable cause before using a drone with exceptions for justified emergencies.  Finally, the legislation mandated reporting requirements and public oversight of the use of drone technology in Virginia.
HB 2012 passed the House of Delegates 83-Y, 16-N and SB 1331 passed the Senate 38-Y, 2-N on February 5, 2013.  The House will now consider SB 1331 and the Senate will debate HB 2012 after cross over so
keep in touch with your Senator and Delegate about your support for the moratorium
.
Stop Voter ID Legislation in its Tracks
Unfortunately, the debate over voter ID is not over despite significant changes to the law in 2012 that spurred a massive, expensive public education campaign.  An onerous bill, SB 1256, that mandates that voters show a photo ID, either issued by the government or from an employer, or college/university, has passed the Senate, 20-Y, 20-N, with the Lt. Governor casting the tie-breaking vote in favor of passage.  Under SB 1256, a free voter ID would be available, but only if the state appropriates funds to pay for the IDs—a huge cost to the state.  The ACLU of Virginia opposes voter ID legislation because there no proof that in-person voter fraud is happening in Virginia.  The bill has the potential to impede access to the polls and suppress the fundamental right to vote for potentially hundreds of thousands of Virginians.   
Contact your Delegate to oppose the wholly unnecessary SB 1256!
Even more voter suppression legislation is making its way through the General Assembly.  Legislation seeking to repeal paychecks, utility bills, and bank statements as acceptable IDs has passed the House and the Senate (HB 1337 and SB 719).  It was just last year when legislators expanded the list of acceptable IDs that voters could show at the polls when they mandated voter ID.   It is illogical to change the list of acceptable IDs after only a year.  The legislation would also repeal the use of a social security card as an acceptable ID.  
Contact your legislators to oppose this repeal legislation!
Finally, SB 1077 would require the state to match our voter file against the federal SAVE immigration data base.  In Florida where this program was implemented, it found only 207 noncitizens registered to vote (.0018% of the electorate of nearly 11.5 million registered voters).  At the same time, however, using the system threatened to invite challenges of the voter registrations of thousands of naturalized citizens who became naturalized after applying for and receiving state driver's licenses or other ID linked to the voter registration system.
If SAVE is used to verify citizenship for voting purposes despite its limited capability and probability of error, if a voter is challenged, providing proof of citizenship may be an insurmountable burden to voting.  Nationally, 7 percent of U.S. citizens do not have ready access to proof of citizenship---more than 13 million Americans.
[1]
  Additionally, 32 million women of voting-age do not have ready access to a citizenship document with their current legal name.
[2]
  Naturalized citizens who have lost their proof of citizenship must apply to USCIS for documentation---a process that takes several months, may require in-person interviews, and costs $345.
[3]
  Using the SAVE Program is far more likely to disenfranchise eligible voters than find illegally registered individuals. 
Urge legislators to oppose using SAVE!
Stop Legislation Allowing State Funded Discrimination
So-called "religious liberty" bills, HB 1617 and SB 1074, which require universities to recognize and fund organizations that discriminate, are making their way through the General Assembly.  The bills prohibit public universities from denying recognition and funding to student organizations that discriminate in their membership based on classifications--such as sexual orientation and religion.  Nothing stops students at public universities from forming clubs that deny membership based on race, sex, religion, national origin, sexual orientation, disability, or any other characteristic, but as the Supreme Court has already said, the Constitution doesn't require the government to pay for the discrimination.  
Contact legislators to stop these state funded discrimination bills!
Call to Action: Voter Restoration Needs to Happen Now!
Despite support from Governor McDonnell, Attorney General Cuccinelli, and several organizations, including the ACLU of Virginia, a subcommittee of the House Privileges and Elections again killed all restoration of rights bills in a subcommittee.  The full House Privileges and Elections Committee even failed to give the bills a full hearing.  The Senate, however, passed SJ 266 (30-Y, 10-N), that restores the civil rights of individuals convicted of non-violent felonies who have completed all terms of their sentences including repayment of any restitution, fines, costs, and fees.  We hope the House gives SJ 266 open-minded consideration and that they approve it. 
Urge your delegate to support SJ 266!
In the meantime, we have asked Governor McDonnell to issue an executive order automatically restoring the civil rights of non-violent felons immediately regardless of whether the legislature agrees to set the wheels in motion toward voter approval of a constitutional amendment. 
Urge Governor McDonnell to issue an executive order!
Most Juvenile Justice and Students Rights' Bills are Moving Forward
The House overwhelmingly approved legislation that restores discretion to school-based administrators in deciding (1) when to report misdemeanor offenses to law enforcement (HB 1864), and (2) disciplinary measures for offenses involving non-gun weapons, such as spit balls launched through a straw (HB 1866).  School administrators, not law enforcement, should decide when incidents are serious enough to merit expulsion or criminal action.
The ACLU is committed to stopping the school-to-prison pipeline,  we need you to contact your Senator to support these bills!
Ban on LGBT Discrimination Bill Progresses
The legislation, SB 701, bans discrimination in state employment on the basis of sexual orientation and gender identity, age, religion, sex, race, national origin, disability, marital status and veterans status..   Passage of this legislation will be the first time the General Assembly has codified a policy of nondiscrimination in state employment for any of the covered groups. State employees previously have been protected only by Executive Order or in the case of LGBT employees only by an Executive Directive  The Senate passed SB 701 by a vote of 24-Y, 16-N and now the bill heads to the House General Laws Committee for consideration. 
Contact your Delegate to support this bill!
Mix of Good and Bad Criminal Justice Bills Advance
A pair of bills that expand the opportunities for individuals to use the writ of actual innocence petition procedure have passed the House.  HB 1308 allows a juvenile adjudicated delinquent in a circuit court of an offense that would be a felony if committed by an adult to petition the Supreme Court to issue a writ of actual innocence on the basis of biological or non-biological evidence.  Currently, the procedure is only available if an adult is convicted of such an offense.
The other bill, HB 1432 changes one of the allegations necessary to a petition for a writ of actual innocence from "the evidence will prove that no rational trier of fact
could
have found proof of guilt beyond a reasonable doubt" to "the evidence will prove that no rational trier of fact
would
have found proof of guilt beyond a reasonable doubt."  This revision broadens the scope in which a judge can evaluate a petition for a writ of actual innocence.
Unfortunately, a pair of bills that allows admission of evidence of prior convictions of child sexual abuse against a defendant in a child sexual abuse case are making their way through the General Assembly.  These bills violate defendants' right to a fair trial by allowing them to be convicted based on their previous conduct.  The House version, HB 1766 takes into account a rule that makes the court weigh the probative value of the evidence versus the harm it may cause, however, the Senate version, SB 1114, does not.    Courts – including the U.S. Supreme Court – have repeatedly recognized that allowing a defendant's prior actions to be used to show a "propensity" for criminal behavior deprives a defendant of fair trial.  The ACLU of Virginia opposes enactment of this legislation because it will unbalance the scales of justice and deprive defendants of fair trials.
Legislation Impacting Civil Liberties Killed for 2013
Cross over during the session signifies the end of road for some bills, good and bad, and this year is no different.  Legislation that would have extended eligibility to apply for in-state tuition to qualifying undocumented immigrant students was  killed in House Appropriations Committee after passing the House Education Committee (HB 1525) on a strong bi-partisan vote.   A similar bill, SB 1090, failed in Senate Education and Health Committee on a party-line vote.
Among the good news is that all anti-choice legislation has been killed for 2013.  After drawing  national media attention and ridicule in 2012, legislators had no desire to prolong debate on reproductive freedom or anti-choice bills.  Legislation excluding contraception coverage from health insurance did not even receive a hearing.  On the other side, all pro-choice legislation was defeated including a bill that would have  repealed the law that requires a woman to get a medically unnecessary ultrasound before obtaining an abortion.
A proposal to amend the Virginia Constitution's Jeffersonian Statute of Religious Freedom  died  when the patron withdrew the bill on the floor of the Senate after realizing the bill did not have enough votes to pass (it needed a majority of the elected Senators, i.e., 21 votes).  The bill purported to protect a litany of religious activities on public property, however, we argued such activities were already either protected or prohibited by the First Amendment.  We told legislators that because the bill failed to distinguish between constitutionally protected religious speech and constitutionally prohibited endorsement of religion, the bill would have caused confusion in public schools and government offices--and it would have inevitably led to litigation.
We hope supporters will continue to contact their legislators on bills that significantly impact civil liberties and civil rights.  There are only a couple more weeks of this year's session left, so it's even more important that you
take action now
!  
---